Welcome to St. Gabriel the Archangel School
We appreciate your interest in our school. Here at St. Gabriel, we take great pride in our sense of community. Our community is what brings us together, and keeps us together. I am constantly amazed by how many students' parents and even grandparents attended our school. It is such a special place that not only do people keep coming back, wanting their family to have the same wonderful experiences that they did, but new families seeking a sense of community are also drawn to our parish and school. Our traditions are longstanding and very important to us.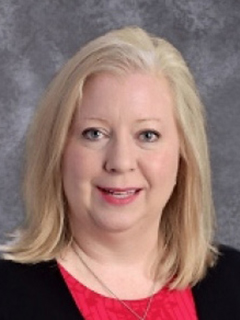 While we value tradition, we are also in a time of significant growth and progress. We are working very hard to ensure our students are receiving a 21st century education that will prepare them to be successful in an ever-changing world. We are accomplishing this by updating our curriculum and resources for our students in all grade levels. We have also partnered with other organizations in our community to bring additional dynamic opportunities to our students. A few of our current partnerships include Symphony in Your School with the St. Louis Symphony, the Clavius Project for robotics with St. Louis University High School, and Readers to Leaders with St. Louis University and La Salle Middle School. Overall, we dedicate ourselves to academic excellence and providing students the means to attain it.
Above all else, our Catholic faith is what we ground our work in. We strive to develop and deepen our knowledge and love of God. Our teachers work hard to ensure our students not only learn about our Catholic scriptures and traditions, but celebrate and live them each day. We strive to all be, like our patron saint, messengers of the good news wherever we go. This includes celebrating Mass twice a week, engaging students in meaningful religion curriculum led by our teachers and priests, and special programs such as our partnership with SouthSide Early Childhood Center where seventh graders volunteer each Friday in the spring. Another unique opportunity our students experience is when they are sorted into a "House" in junior high, where they engage in service-learning opportunities based on the work of the patron saint of their "House". Opportunities such as these allow our students to, "Join hands with Christ to build a better world."
As you can see, at St. Gabriel the Archangel, we strive to enrich our students spiritually and academically. Please take some time to explore the rest of our website to see the many ways we go about this. You are invited to visit us for a tour or contact us at any time to hear more about all of the many ways we are living our mission.
Thank you again for your interest and support of St. Gabriel the Archangel!
Tonya McEnery
Principal