PE Classes Prepare for Halloween
Last week students in all grades began preparing for Halloween. Kindergarteners and first graders learned how to get rid of those scary germs by washing their hands properly. Nurse Ceigel joined us in the gym to teach about germs, share some magic lotion with students that made germs show up on their hands under a black light, and then had students practice washing their hands to see if they could take care of all those scary germs. The kindergarteners and first graders enjoyed a game of "Germ Tag" to end the lesson.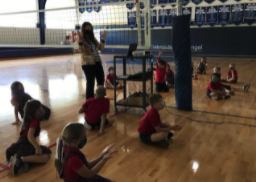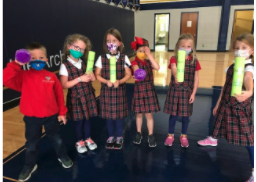 Students in grades 2 and 3 were playing with "ghosts" in the gym! They worked on their juggling skills with scarf ghosts. Juggling is quite a challenge, but the students all worked very hard and kept trying even when their ghosts fell to the ground.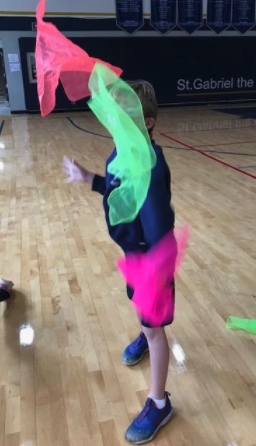 Our 4th through 8th graders completed their fall mile run. Now they are better able to run away from any scary monsters that may appear on Halloween night! Many students met their goal of improving their mile time from last year's mile runs. And a special congratulations goes out to our school's fastest male and female runners - Andrew (8S) with 5:50 and Riley (8R0 with 6:51! We even had some faculty members go the "extra mile" and run the course with their classes! Great work, Mrs. Minor and Dr. Winkeler!